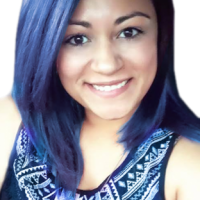 Just a few of my favorite things!
Where am I from?
– Bronx, NY and moved to Citrus County, FL at age 13. This city girl met the country life, would you like a little spice with your sweet tea?!
Favorite Colors
– Blue because I love the Ocean
– Purple because it's Royalty, duh!
Favorite Movie
– "Finding Nemo" stop judging, just keep scrolling!
Favorite foods
– My Nana's cooking, Pizza Pizza oh and street dogs (You know the hot dog man who sells hot dogs on the corner.. Lol)
Girl Crush
– Katy Perry!! She's Gorgeous and just the sweetest!
Favorite Group
– Maroon 5 because I'm so in love with Adam Levine
Favorite City
– NYC of course! It never sleeps and has all kinds of GREAT food
What must I have before leaving the house?
– My leg (it's fake) a girl has to walk, my cell phone for talking, my car keys for driving and my laptop for extra stalking!
Favorite brand name
– Michael Kors, but I refuse to buy his overpriced stuff so I just window shop!
Dream vacation
– Where I'm left on an island with food and drinks or a FREE one!
I can't wait to get to meet you all when we're out and about! It's going to be fun times!

Tweet Share LinkedIn Valentine's Day is just DAYS away and maybe you are still looking for that perfect outfit to wear. Whether you're going out with your friends, your boo or just want to look nice at

Tweet Share LinkedIn New Year, new you maybe?! Fashion is always changing and I am always wanting to be in the know of the latest fashion trends. I'm here to help all of us out! I have