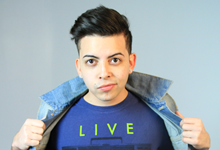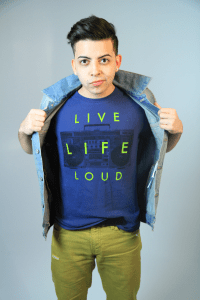 Versatility is a word that is commonly used to describe Dj Distrakshun, with his ability to play for any crowd and any genre of music. Performing at venues with varying genres including Hip-Hop, Latin, Electro, Country and Rock. Distrakshun leaves everyone in awe by the end of the night, with his artistic approach on the turntables making every performance unforgettable. Born and raised in New York City, Domingo Mencia aka Dj Distrakshun was influenced greatly by the diverse cultures of the big city. Listening to the radio day and night sparked his interest in the deejays of his child hood. When Distrakshun moved to the DMV (DC, MD, VA) area he never left behind his home city. His love and obsession for music grew stronger as he took in the sounds of his new home, Washington D.C. The sounds of Go-Go, a blend of Funk and Hip-Hop drew his attention to the DC night life.
At the age of 19 Distrakshun made his first appearance at one of DC's biggest venues, FUR Night Club, since that day his career as a deejay began. At the young age of 20 Distraskhun landed a mixshow on WDCN La Nueva 87.7fm a new radio station taking the DMV by storm. Covering the greater DC, Maryland & Virginia area. His current mixshow tittled "La Mezcla DMV" airs Mon-Fri on 87.7fm from 7-10pm alongside Chris Hypnotyc.
Distrakshun has become the official deejay and co-host of the largest Honda enthusiast event in theUS. Honda Day is held three times a year in New Jersey & Orlando Florida. With an attendance of over 1,200 people every venue this by far is the biggest Honda event in the world. Honda Day events promote themselves as family friendly and feature a diverse, enthusiastic and desirable fan base – a coast-to-coast celebration of the Honda/Acura lifestyle. For more information about Honda Day visit HondaDay.com.
Distrakshun's hard work & dedication has helped him grow as a musician. Taking his latin roots and the influences of NYC he is leaving his mark on the DMV showing everyone his perspective on music. Working with La Nueva has widened his knowledge of music and varios latino cultures. The unique rhythm of Central and South America fill the streets of the city & quickly caught Distrakshun's attention.
He began incorporating the sounds of Cumbia, Punta, Samba and Latin Rock into his mixshow expanding his following and understanding of music. This bold move was just the beginning of his obsession with new sounds and cultures. Although known in the Latin market Distrakshun is expanding into the American market as well.
Earning his acceptance into the DMV Hit Squad, he has rapidly made his impact on the English market. Submerging himself into new music is something Distrakshun is not afraid to do. It's not an easy task for someone to take so many influences & merge them seamlessly. This is one of the reasons Dj Distrakshun is known for his versatility & diverse understanding of music. Incorporating his artistic approach at every performance with scratching & seamless transitions, has helped him make an impact to his listeners.
Expect to see and hear more about Distrakshun as he continues to expand his knowledge & talent as a deejay.